Arno Invites 17 december 16:00 @ De Jazzbunker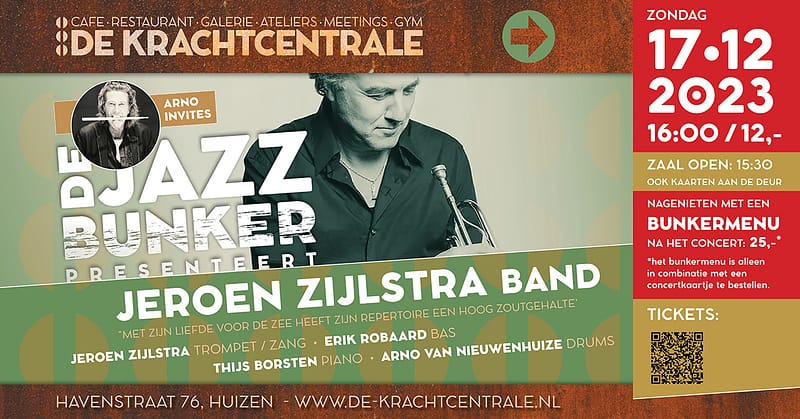 Welkom in "De Jazzbunker"! Jazz staat voor vernieuwing en eigenheid, daar gaan wij dan ook naar op zoek. Elke maand kun je uitkijken naar een inspirerend concert van vooraanstaande musici beneden in de Krachtcentrale.
Deze maand, zondag 17 december, kijken we uit naar:
ARNO INVITES
Drummer Arno van Nieuwenhuize zal weer vooraanstaande musici uitnodigen om van deze middag een geweldig muzikaal spektakel te maken. We zullen in de volgende nieuwsbrief bekend maken wie dat zijn!
Arno van Nieuwenhuize started his professional career at the age of 14 years by playing in local bands. During the eighties, after studied percussion at the Conservatory of Rotterdam, he played in several well known bands in Holland, like the Daniel Sahuleka Band, the Margriet Eshuis Band and the Fay Lovsky Band.
In 1984 the famous Dutch composer Rogier van Otterloo asked Arno to join the Metropole Orchestra. Arno worked with the orchestra until 2013. In the Metropole Orchestra Arno played and recorded with a lot of international artists like Herbie Hancock, George Duke, Chaka Khan, Oletta Adams, Gino Vanelli, Todd Rundgren, Jimmy Tenor, Asha Bosle, Cheb Khaled, Cliff Richard, Brian Eno, Steve Vai, Bono, Patrick Breul, Natascha Atlas, Sertab Erener, Sezen Aksu, Nguyên Lê, Gary Lucas, Terry Bozzio, Jim McNeally and many others.
During the nineties Arno made the music for a well known Dutch television program called "Jules Unlimited". The program won a special Dutch price.
The last 25 years Arno has played with numerous national and international musicians as a freelance drummer, like Ziad Rahbanni and his mother Fairouz in Lebanon, Ara Gevorgyjan in Armenia, and Steve Vai at Rock in Rio, Brasil.
Wanneer: zondag 17 december
Aanvang concert: 16:00 uur
Zaal open: 15:30 uur
Na afloop kan je (na)genieten van een  heerlijk "Bunkermenu", deze is samen met een ticket bestellen. Tot ziens in de Jazzbunker!
Ticketprijs: 12 euro
Bunkermenu: 25 euro
Nog 55 tickets beschikbaar